Latest News
Fair fun
Posted 7/12/17 (Wed)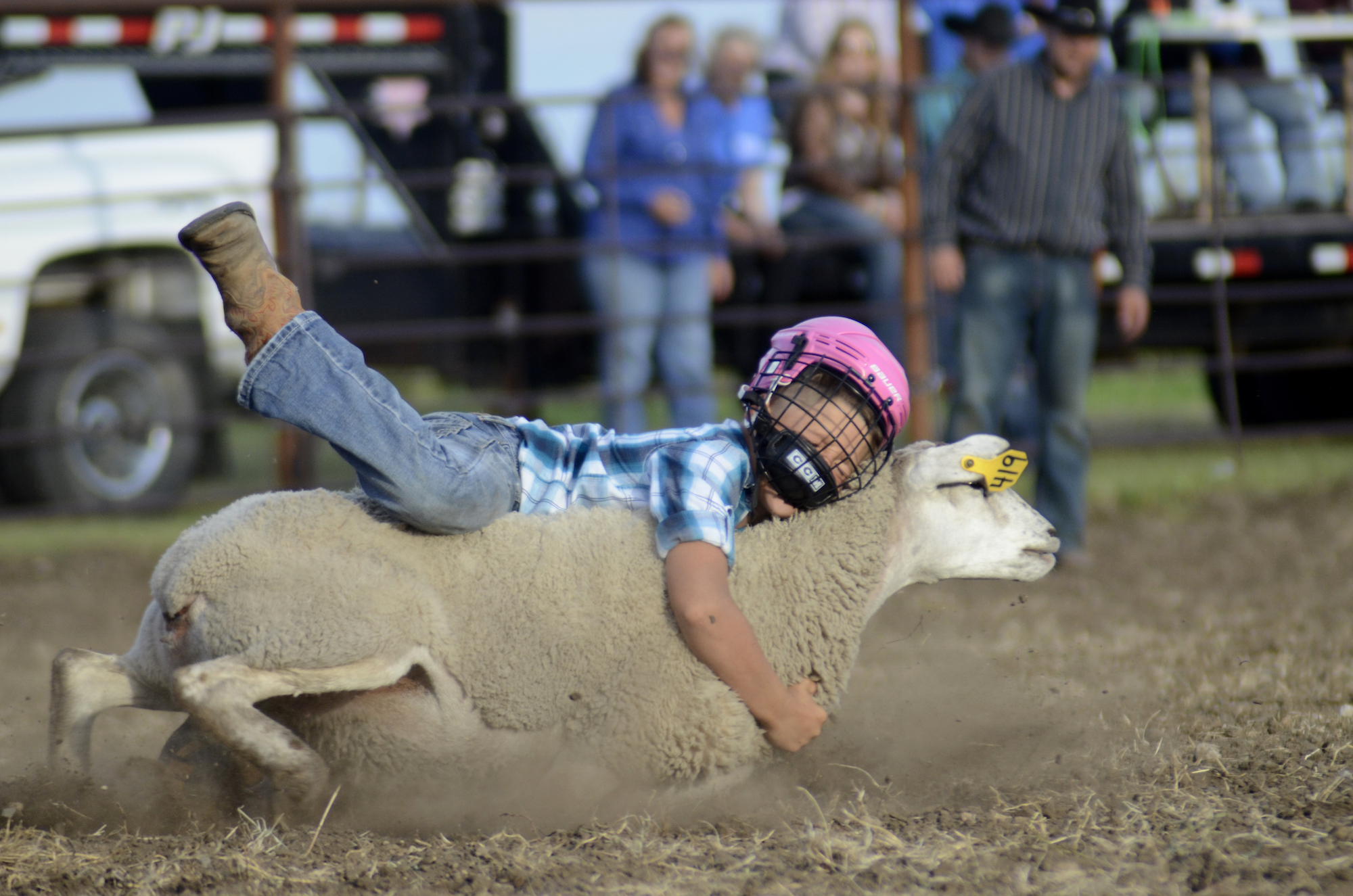 Get set for a big bash this weekend when the 91st-annual Tri-County Fair holds a four-day run on the event grounds, one mile west and one-quarter mile south of Wishek.

As in the recent past, the Tri-County Fair shapes up as one of the area's top family entertainment bargains, since gate admission for the entire weekend will be free.

The action shifts into top gear from the get-go on Thursday when several classes of auto racing, including the popular INEX Legends, take to the dirt track at Tri-County Speedway, located right on the fairgrounds.
Highly-regarded drivers from around the state and beyond, including some of the Tri-County area's favorite sons, are expected to compete when the green flag drops at 7:30 p.m.
There will be competition in several classes, including Streets, B-Mods, Stock Bombers, Hobby Stock and Legends. Lightning Sprints are a new addition at this year's fair.
The first of many judging events at the fair is set for Thursday as well. Open Class FFA Exhibits will be accepted beginning at 5 p.m., with evaluations to follow at 7:30.
The Tri-County Amusement Rides carnival begins its weekend-long stay Thursday evening on the midway. Several rides and action-packed games are available to thrill fairgoers.
A Craft Show, in its 28th year, is back again at this year's fair. Hours are 11 a.m. to 10 p.m. on Friday and Saturday and 11 a.m. to 6 p.m. on Sunday.
Crafters come from all over North and South Dakota to display their wares. Each brings their own specialty items, many of which are handmade. Exhibits include antiques, jewelry, clothing and more. It's not too early to do some of your holiday shopping.

Exhibitors are in the fair spotlight on Friday, with activities slated to include 4-H Achievement Days, the 4-H/FFA/Open Class Horse Show, the McIntosh County 4-H Animal Show, and the open class Home Economics and Ag Events.
The 4-H Parade of Champions and Market Livestock Premium Sale is set for 6:30 p.m. in front of the grandstand.

More INEX Legends action highlights another 7:30 p.m. racing program on Friday. Streets, B-Mods, Stock Bombers, Hobby Stock and Lightning Sprints also will be back on the speedway track, located right on the fairgrounds.
You'll want to come out early, as kids will have a chance to take a ride in the race cars, starting at 7:10 p.m.
Eric Piatz, at 701-321-0002, is the racing event chairman.

Youth competition leads the fair's Saturday morning agenda, with the Kids Open Class Horse show at 9 a.m. The Tri-County 4-H Archery Tournament, which is a new event added a couple of years ago, also is targeted at that time. Event chairs are David Just, at 701-226-7546, for the horse show, and Sara Gross, at 701-321-1415, for the archery.
The Sand Volleyball Tournament tips off at 9 a.m. Saturday as well. Action is scheduled to run through early afternoon, with a round-robin format. Matches will be decided by total points. The chairperson is Melisa Meidinger at 701-659-0566.
Area bakers will get their turn in the spotlight during the 'World's Best Kuchen from the Tri-County Area' contest on Saturday. Registration is from 11 a.m. to noon, with judging at 1 p.m., and awards at 2:30.
In addition to adult and junior (18 and under) divisions, there also will be a business division, with a traveling trophy awarded.
Kuchen categories include: Peach, Prune, Cottage Cheese, Rhubarb, Wedding Kuchen and other. Participants should bring one kuchen for each category they wish to enter.
The contest is co-sponsored by the Tri-County Tourism Alliance and BEK Communications. For more information, visit: germanrussiancountry.org. You can also call Acacia Stuckle at 254-4811 or Carmen Rath-Wald at 754-2504.
It will be bingo time at 1 p.m., when the Tri-County Exhibitors Association (better known as the Fair Board) hosts games with a $1,000 blackout jackpot.
The Tri-County Fair will host an afternoon Enduro Race, beginning at 1:30 p.m. on Saturday.
About 20 competitors are expected at the speedway, with a $1,500 prize awarded to the winner. As the event name implies, it will be a grueling test of endurance for both car and driver — 150 laps or 1.5 hours.
Getting out of the way is a very necessary skill from 2 p.m. to 5 p.m. Saturday when it's time for the annual Tri-County Fair Dodgeball tournament.
The tourney is open to guys and gals, ages 12 and up. There's a $5 per person entry fee, with a cash prize payback. For details on rules, or to sign-up for the tournament in advance, call Vince Meidinger at (701) 659-0567.
Bring your cats, dogs, rabbits and poultry for the Open Class Small Animal Show at 4:30 p.m. The event chairperson is McIntosh County extension agent Crystal Schaunaman, who may be reached at 288-5180.
The Dakota Saddle Club is hoping to have a dozen teams on hand Saturday evening to compete at the Tri-County Ranch Rodeo, beginning at 7:00.
"This year we're mixing it up a bit by changing our livestock contractor, as well as a few of the events," says Fair Board director Jeremy Rohr.
"The crowd-pleasing branding and relay events will remain as we add in a sled race and wild cow milking."
Wishek native Riston Zielke, a popular rodeo announcer, will be on hand to call the play-by-play action. Contact Linda Rohr at 452-2424 for more information.
Check-in for the Open Class/North Dakota Junior Point Livestock Show (which will be held Sunday morning) also gets underway at 7 p.m. Crystal Schaunaman has more at 288-5180.
The evening wraps up with free live music performed by Whiskey Creek. Vocalist Natalie Koistinen says Whiskey Creek has been performing across the Upper Midwest for about four years.
"We play a variety of hits from all decades to try and please everyone," says Koistinen, who lives in Hazelton.
In addition to Koistinen, the band's current line up includes Steve Luebke, Strasburg; Chuck Hoaby, Wahpeton; Jimmy Hoaby, Lisbon; and the latest addition — Greg Goerdt, Wahpeton.
"We've got several new songs on the playlist for our summer tour and we're excited to perform them at the Tri-County Fair," says Koistinen.
Fair festivities start bright and early on Sunday. Breakfast will be available at 8 a.m. from the Sports Boosters concession stand.
The Open Class/North Dakota Junior Point Livestock Shows start at 8 a.m. as well, with swine, sheep, goat, dairy and beef categories. The Kiddie Calf Show will be held prior to the beef show.
The Antique Car and Tractor Show runs from 9 a.m. to 4 p.m Sunday. Contact Warny Becker at (701) 452-2416 for entry information.

An Ecumenical Church Service, sponsored again this year by the Wishek Ministerial Association, will be held indoors, beginning at 10:30 a.m.

The soup and sandwich luncheon, a Tri-County Fair tradition put on by directors' wives for as long as anyone can remember, runs from 11:30 a.m. to 1 p.m.
Menu items include your choice of sandwiches, with homemade soup, beverages and dessert. Cost is $7.50 for adults and $5 for children 12 and under.
A picnic for livestock exhibitors and their families starts at noon on Sunday.
Tri-County Amusement Rides is offering a special carnival promotion on Sunday afternoon. A $15 wristband provides unlimited rides from 1 p.m. to 5 p.m.
The fair will celebrate local and area ethnic heritage with musical performances from Clark Goebel at 1 p.m. and Ellon Meidinger at 3 p.m.
Tri-County Speedway will stay busy at 2 p.m., with the Tuff Truck Contest.
Tuff Truck action occurs on a timed obstacle course, made up of ramps, jumps and water holes. Any type of vehicle may enter.
This brand-new fair event, sponsored by Rudolf Farms, is sure to generate intense competition, as the winner will take home a $700 purse.
There's also more Tri-County Exhibitors Association Bingo (with another $1,000 jackpot), at 2 p.m. in the main building.
Fairgoers can enjoy a free Watermelon Feed at 3:30 p.m. It's sponsored by the Logan County Farmers Union.
There's even more family fun on tap than we could fit into this article. Check out the fair poster for a complete schedule and visit www.tricofair.com for rules, regulations, event contacts, and additional information.

The 91st-annual Tri-County Fair ... it's your fair, so be there!