Latest News
Toxic threat
Posted 8/01/18 (Wed) - by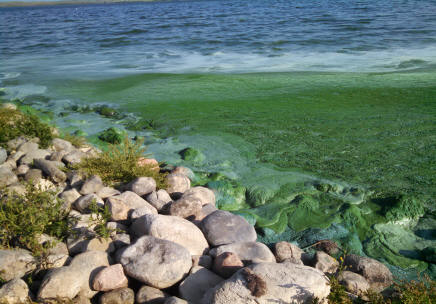 Officials with the state Health Department are continuing to warn of blue-green algae concentrations in McIntosh County.
Mike Ell, with the department's Environmental Health Section, says an advisory has been issued for Green Lake.
"We are out there (on the lake) continuing to test for the algae," Ell said last week.
Ell adds there also have been reports of blue-green algae in Dry Lake, but the level of toxins did not warrant an advisory.
Summer weather contributes to the production of blue-green algae, or cyanobacteria, in bodies of water that are used by people, pets and livestock.
Blue-green algae discolors the water and can cause foam, scum, or mats to appear on the surface.
In severe cases, the water can have the appearance of spilled green paint or green pea soup.
Blue-green algae can also produce toxins in the water called cyanotoxins. People and animals that swallow water containing cyanotoxins can become sick with diarrhea and vomiting; numb lips, tingling fingers and toes; dizziness; or rashes, hives or skin blisters.
In some cases of exposure from ingesting contaminated water, cyanotoxins can result in death.P { margin-bottom: 0.08in; }