Latest News
Fine at 40
Posted 11/01/17 (Wed)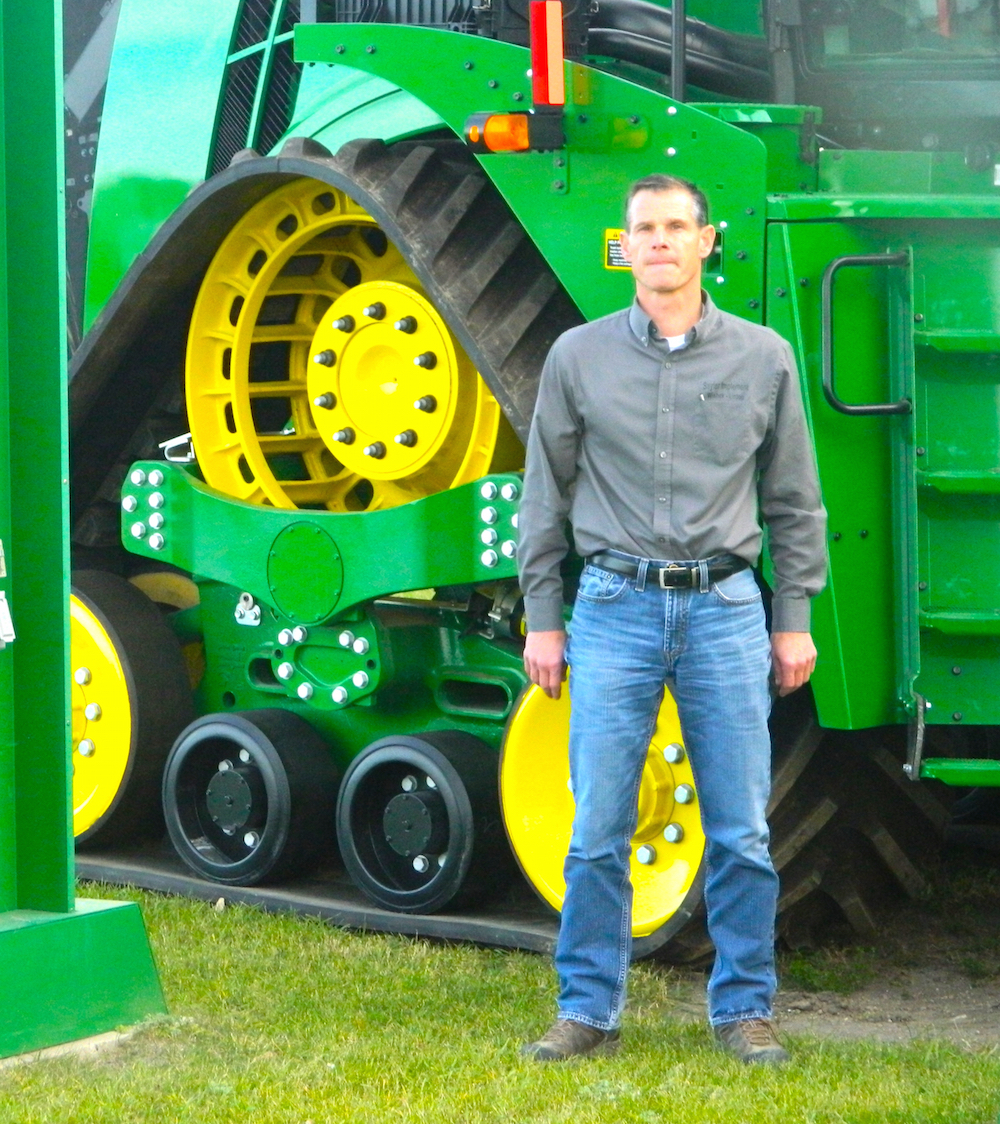 Sayler Implement, of Wishek, has been in business for 40 years.
The doors opened in 1977 under the ownership of the late Allen Sayler. A Linton location was established about 10 years later.
Sayler Implement is co-owned and managed by Troy Scherr and Duane Werlinger.
"It is a 50-50 partnership," explains Scherr.
Scherr manages the Wishek dealership at 1414 Beaver Ave., while Werlinger does the same at 8125 Highway 83 South in Linton.
Both locations carry the John Deere brand, including agricultural, residential, commercial and frontier equipment.
Scherr purchased his stake in the company in 2000. He began his career at Sayler Implement in 1992 as a bookkeeper.
"I had plans to go into farming, but my brother was doing that and we really didn't have enough acreage for the both of us," Scherr says.
"And so I wound up in the implement business. It's been the next-best thing to farming."
Scherr says Sayler Implement performed very well during the first decade and a half that he was co-owner.
"We're doing all right, but the entire ag industry has been slumping during the last couple of years. We have seen some impact from that downturn as well," Scherr says.
Scherr says a big key for Sayler Implement has been the continued success of its Parts and Service Department.
"I honestly think we have the best parts and service operation in the area," Scherr says. "And that extends many miles in every direction.
"Farmers know whenever there's an equipment problem, we are there for them and we will keep their downtime to a minimum.
"We have a large inventory of parts on hand. Most times, it only takes a quick call or text to us. We have the part in stock and they can get right back in the field."
Scherr says the excellence of the Parts and Service Department helps drive sales for Sayler Implement.
"When it comes time to make a purchasing decision, everyone knows that we have high-quality John Deere equipment and that we will stand behind it," Scherr says.
Scherr says the Wishek location serves a wide area — north to Steele, east to Edgeley, and south to Timber Lake, South Dakota.
To the west is the Sayler Implement location in Linton.
"We work hand-in-hand with our Linton office," Scherr says. "Customers can go to whichever location is most convenient for them.
"And an added plus is that it gives us a wide market area for the used equipment we sell."
Sayler Implement currently employs about a dozen people in Wishek and nine in Linton.
Scherr says the company is ready for the future, as equipment becomes increasingly larger and hi-tech.
"We added a new 100 x 120 square foot shop area a couple of years ago here in Wishek," Scherr says.
"It not only provided more space for the huge pieces of equipment we work on, it has helped us attract and maintain our staff of service technicians.
"These employees are in high demand. If you can give them the space they need and a pleasant work environment, you're ahead of the curve."
Technicians are constantly training to stay in tune with the fast-moving advances in agricultural technology.
"We're moving to autonomous tractors and other equipment that does not require an operator or driver. Everything is computerized," Scherr says. "It's coming quickly and sometimes it's a challenge to keep up."
Scherr says he's most thankful for his longtime customers and excellent employees.
"They are what make a business work," Scherr says.
"Our customers have been so loyal to Sayler Implement and to Wishek.
"The support from across our service area has been incredible.
"We appreciate the trust everyone has put in us. We work very hard every day to maintain those relationships."