Latest News
Open access
Posted 8/22/18 (Wed)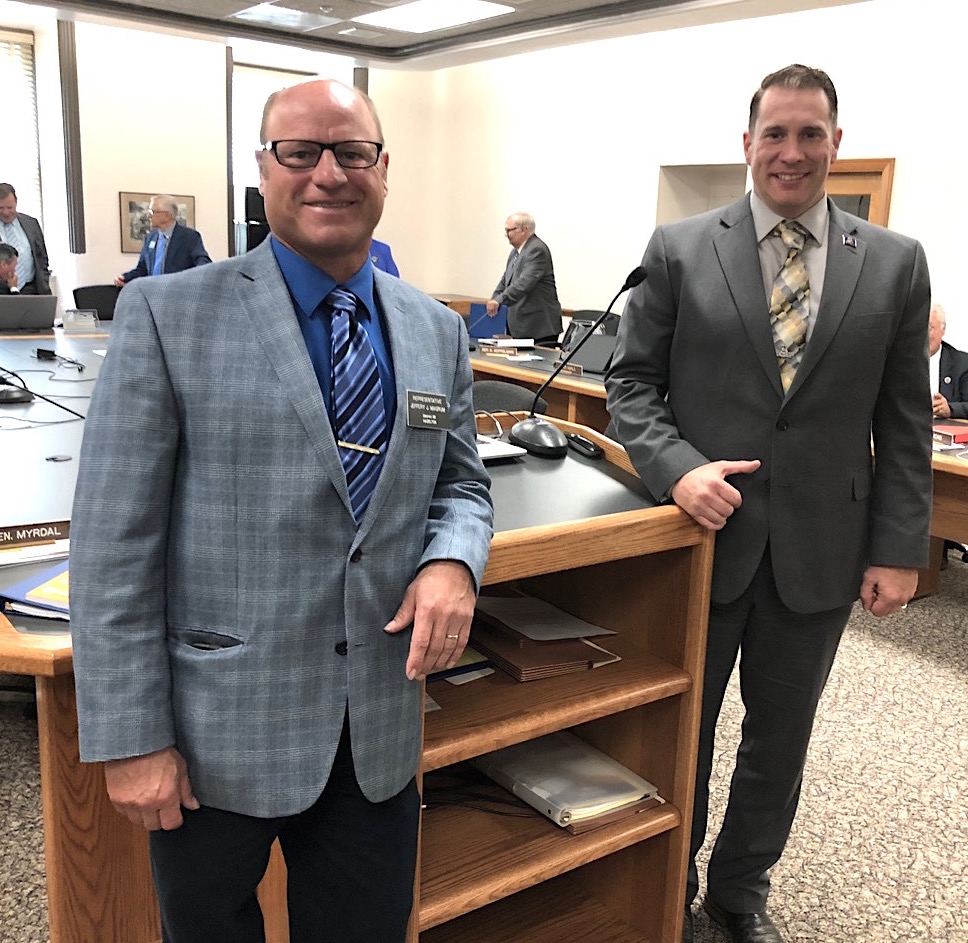 District 28 Rep. Jeff Magrum of Hazelton was successful Tues., Aug. 7, in a meeting of the Interim Judiciary Committee in amending a draft bill that would have limited public access to official business of county government.
Three anti-transparency sections of the bill were deleted thanks to an amendment offered by Magrum and seconded by Dist. 36 Rep. Luke Simons of Dickinson.
The deleted sections would have:
1. Allowed counties to no longer publish "orders and vouchers for payment of moneys from the county treasury."
2. Allowed counties to choose not to publish their official proceedings in official newspapers chosen by the people and to publish the proceedings only on county websites.
3. Eliminated the requirement that election returns (the official abstract of votes) be published in official newspapers. The abstract is published after election results are canvassed and votes are final.
In offering his amendment, Rep. Magrum told the committee members, "We as government officials should protect the transparency, reliability and trustworthiness of the information that the newspaper industry has been providing to the public since the invention of the printing press.
"Printing the government actions in the newspapers is a dependable way of getting information to the people without any potential hacking or mischievous changes. Already, public notices that appear in official newspapers in North Dakota are also included on a website through the North Dakota Newspaper Association and also on many newspaper websites.
"Nothing in the Century Code prevents a county or other unit of government from posting information on their own websites in addition to what is published in official newspapers.
"We must resist the temptation to reduce or restrict the public's right to know merely to save a small amount of money. A well informed electorate should always be our goal. Maintaining transparency is especially important at a time when our citizens are becoming more suspicious and less trusting of our government officials."
Allan Burke of the Emmons County Record, who attended last week's hearing, testified at the initial hearing on the bill draft which was held Mon., April 2, 2018. He pointed out that the North Dakota Association of Counties (NDACo) was pushing restrictions on the public's right to know under the guise of saving money.
Burke thanked Rep. Magrum for championing transparency in government and the public's right to know.
In his April 2 testimony, Burke said, "If transparency and open government are goals, then public notices should be as widely available as possible, not just on a website or social media. Vastly more people visit newspaper websites than government websites, and vastly more people read newspapers than view government websites.
"In an era of 'fake news,' now is not the time to decrease government transparency by forcing people to one electronic portal which is not accessible to everyone. People who do not use electronic devices have a right to readily access government information through the print edition of a newspaper."
Burke noted that Emmons County spent under $3,400 publishing its proceedings in the Record in 2017. He said the county paid $6,261 in dues to the North Dakota Association of Counties last year plus $3,660 to the NDACo member associations for dues for county officials.
He said county commissioners across the state are eligible for health insurance and retirement benefits. In Emmons County, the health insurance premium for participating commissioners last year was $62,508, the retirement benefit cost $9,163 and NDACo dues for the commissioners was $1,650.
"Let me be clear. I am not advocating reducing or eliminating these benefits, but I offer the numbers to put the cost of the public's right to know into perspective," Burke testified.
He continued, "North Dakota voters overwhelmingly want public notices published in official newspapers. How many would vote to give their county commissioners health insurance and retirement benefits? How many would vote to eliminate the bills from minutes? How many would vote to remove the Abstract of Votes from official newspapers? How many would vote to use taxpayer dollars to pay dues to the North Dakota Association of Counties and its 11 Member Associations?"
The amendment offered by Reps. Magrum and Simons was approved on a 6-4 vote. Joining the sponsors in supporting the motion were Dist. 5 Rep. Roger Brabandt of Minot, Dist. 4 Rep. Terry Jones of New Town, Dist. 35 Rep. Karen (Naaden) Karls of Bismarck and Dist. 13 Rep. Kim Koppelman of West Fargo.
Voting to restrict the public's right to know were Dist. 38 Sen. and Chairman David Hogue of Minot, Dist. 47 Rep. and Vice Chairman Lawrence Klemin of Bismarck, Dist. 30 Sen. Diane Larson of Bismarck and Dist. 43 Rep. Lois Delmore of Grand Forks.
Rep. Magrum said he expects one or more bills to be introduced in the 2019 legislative session by those wanting to restrict transparency in government.
"We have won a battle, but the war is not over," Magrum said.